Data discoveries
Coronavirus and its impact on retail: 5 things marketers need to know
1. ONLINE SALES ARE UP
People are stuck at home, so they're shopping more online. This shift was already happening slowly, but as with many things, COVID-19 has brought the future to us faster. This is particularly true in the US, Singapore, and the UK, where online traffic on key shopping platforms has increased and continues to do so. But the effect hasn't been universal – Australia, Canada, and Germany have seen either regular or decreased interest in online shopping after an initial spike.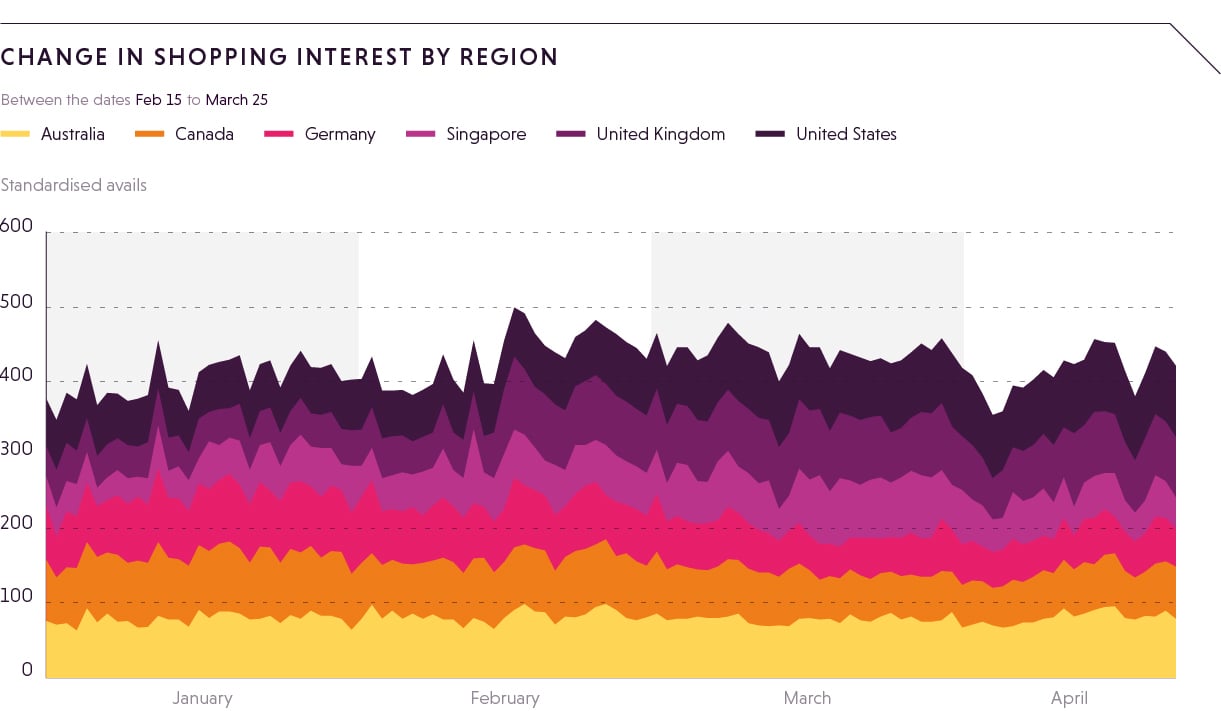 Even in countries or regions where online shopping continues to increase, not every category has seen the same results. While interest in sporting goods is down across the board, interest varies by region in other categories.
In the US, interest in toys and video games has increased substantially, up 74% since social distancing efforts began. The US is also the only region in our sample where interest in health and beauty goods has seen an increase overall during that time.
In the UK, interest in tobacco products, clothing accessories, and toys has spiked, while general interest in apparel has fallen off (-79%).
In Canada, interest in luxury goods has increased by more than three times, though interest in electronic entertainment has decreased.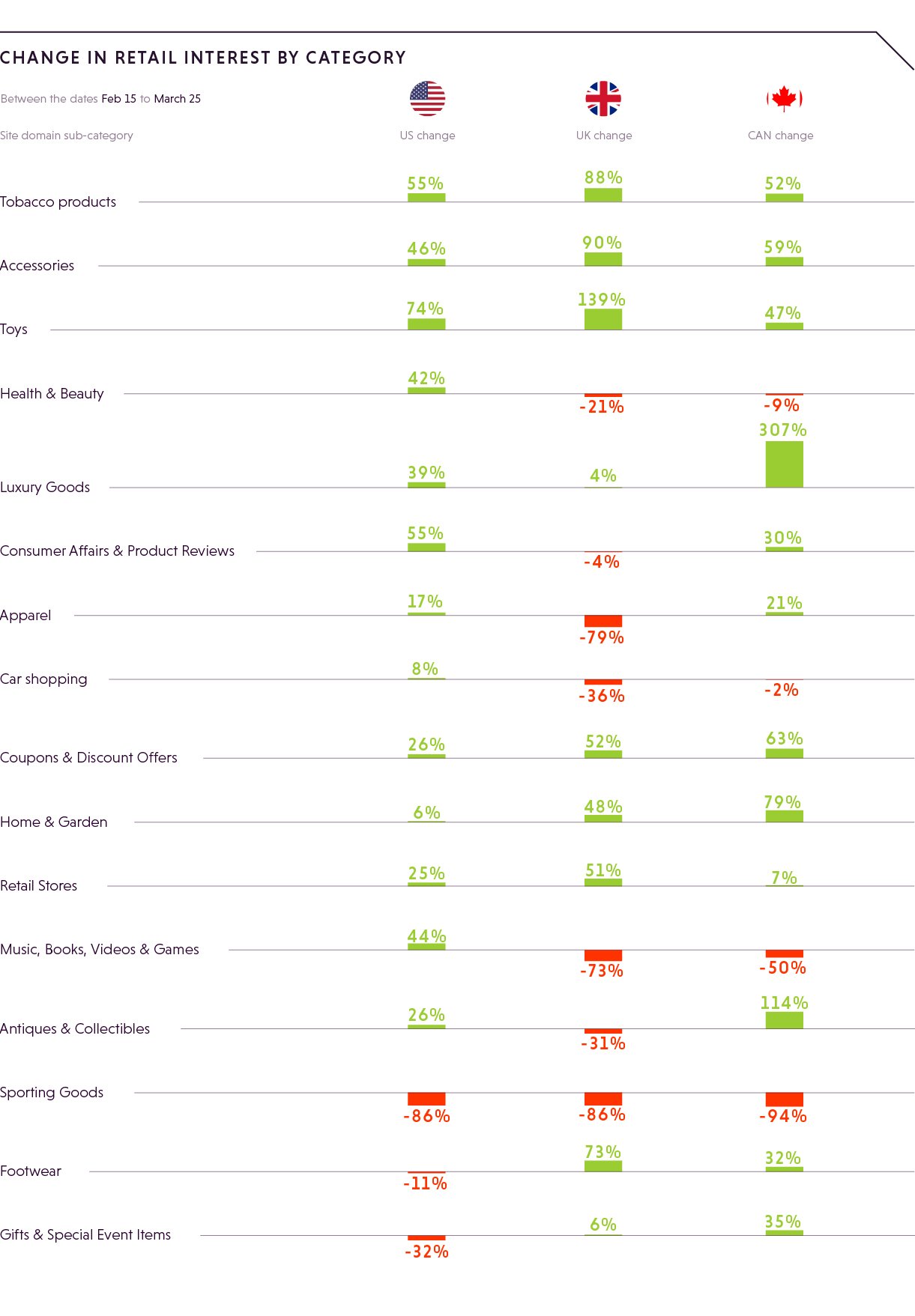 2.BUT STORE FOOT TRAFFIC IS DOWN
In the US, foot traffic to department stores has decreased by more than 90%, dealing a considerable blow to an already struggling group. Some retailers have tried to adapt by offering free delivery and curbside pick-up services, but visits are still down across the board and by more than 10% even at grocery stores, offsetting online sales gains.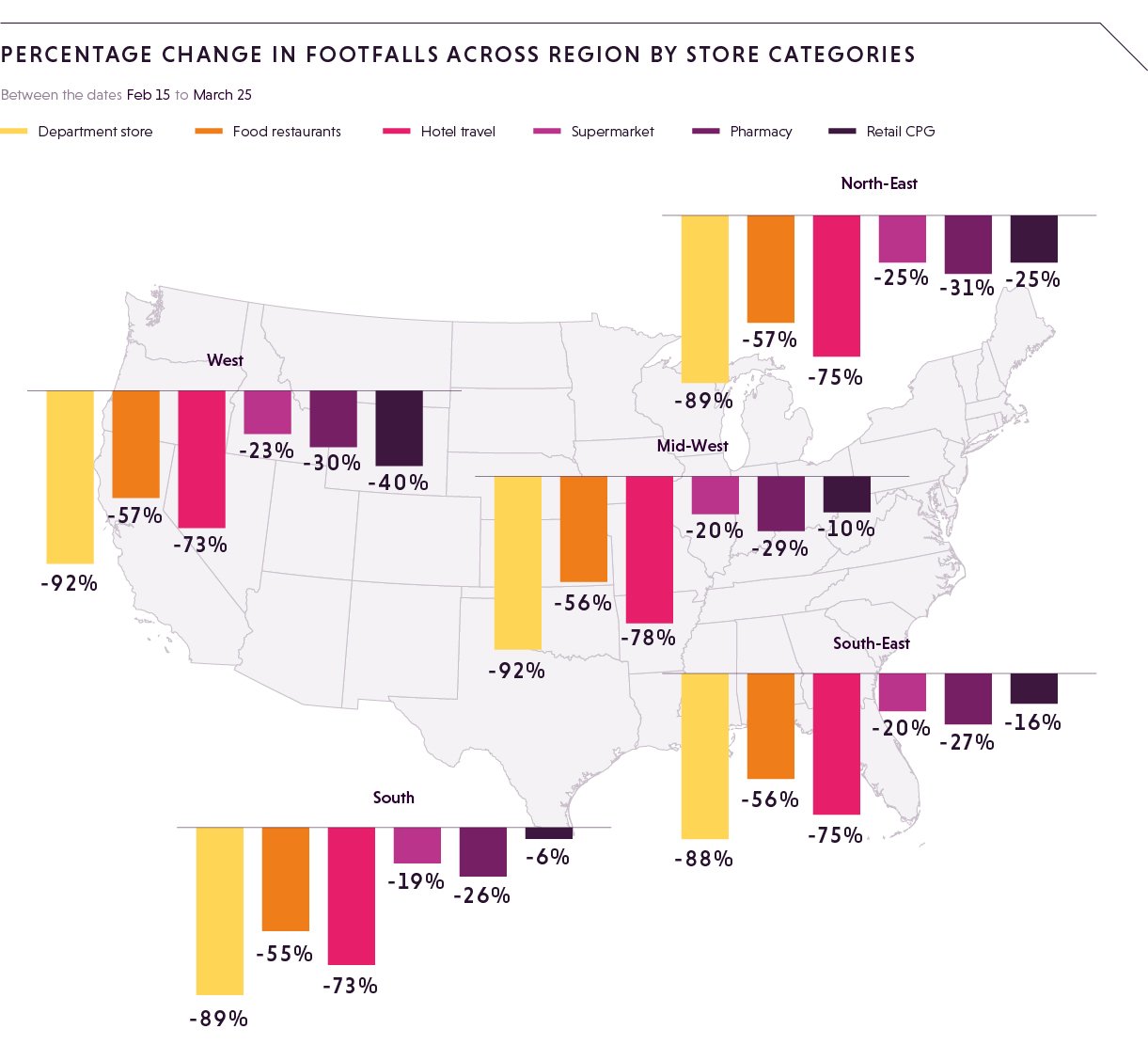 Even for essentials like groceries, people are traveling shorter distances and making more trips to local convenience stores.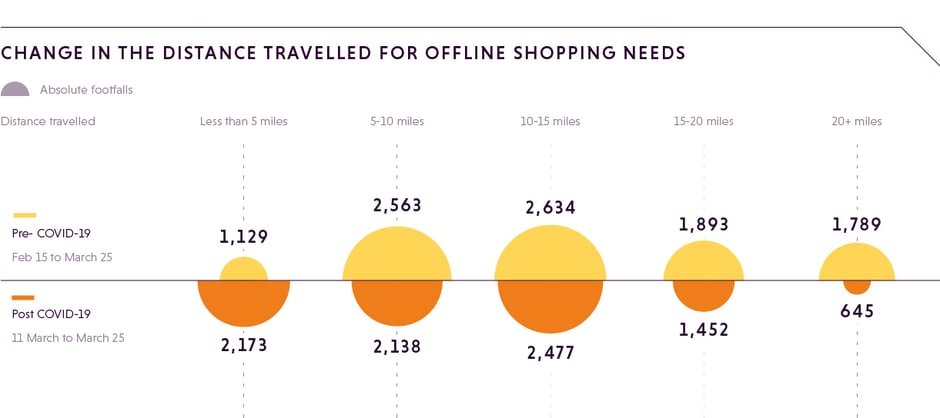 3. PEOPLE ARE LOOKING TO IMPROVE THEIR SHELTERS
Being trapped indoors for the majority of the day, it's no wonder shoppers are now looking to upgrade their homes. Interest in furniture and appliances has increased over the last month across the US, UK, and Canada. Gardening has also been a major point of focus, with consumers rushing to find a hobby to fill their considerable new home time.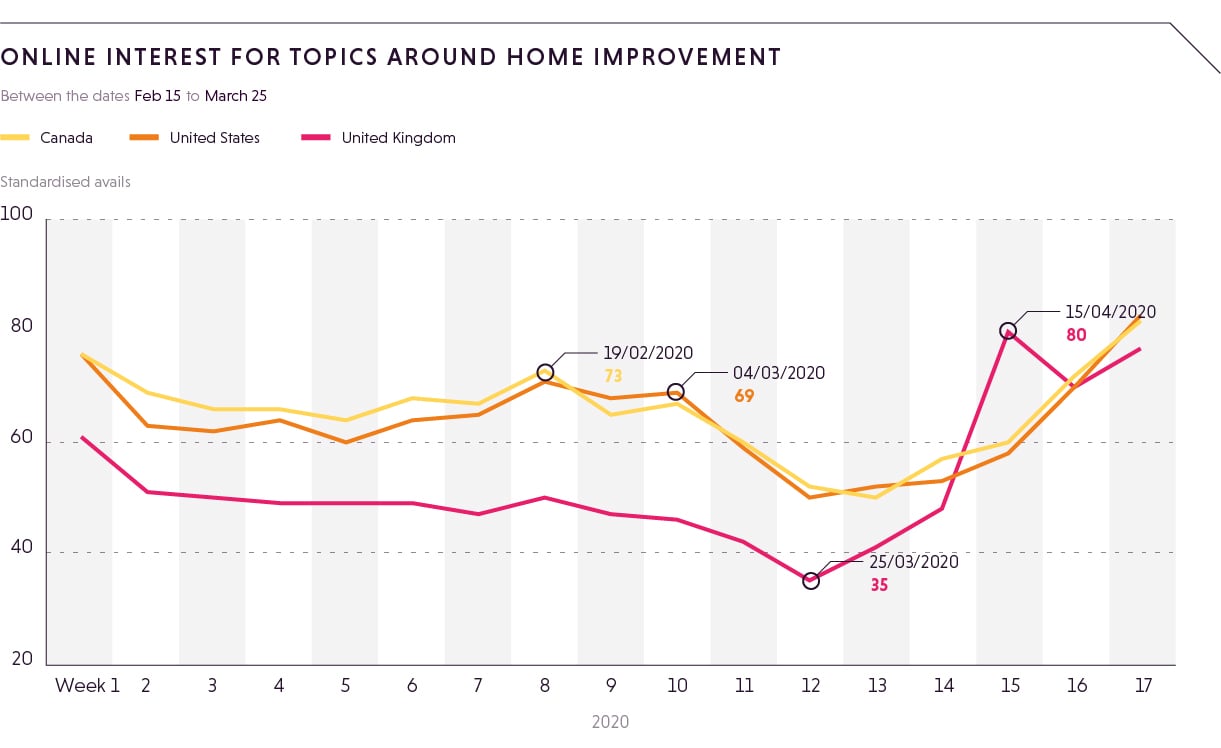 4. CLOTHING RETAILERS ARE FEELING IT, PARTICULARLY LUXURY RETAILERS
Visits to clothing retailers have been among the hardest hit by the pandemic, seeing massive decreases in foot traffic that modest increases in online interest do not offset. As a result, many major fashion brands have had to reconsider their distribution strategies while many retailers are offering significant discounts to attract customers.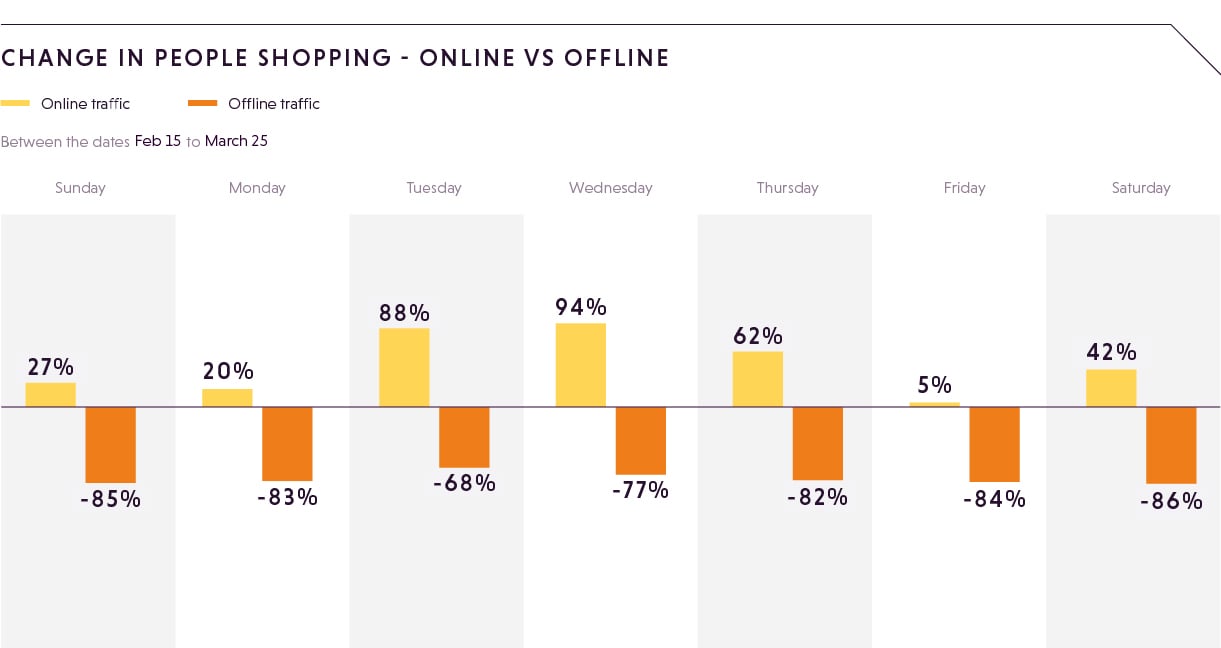 5. OLDER SHOPPERS ARE GIVING ONLINE A TRY
As older consumers are forced to stay at home, they are finding themselves trying online content and methods for the first time, creating first impressions that will likely lead to changed behavior for long periods of time. Both DIY/home improvement and clothing/apparel retailers are seeing that a significant portion of their new online shoppers are aged 45 and older.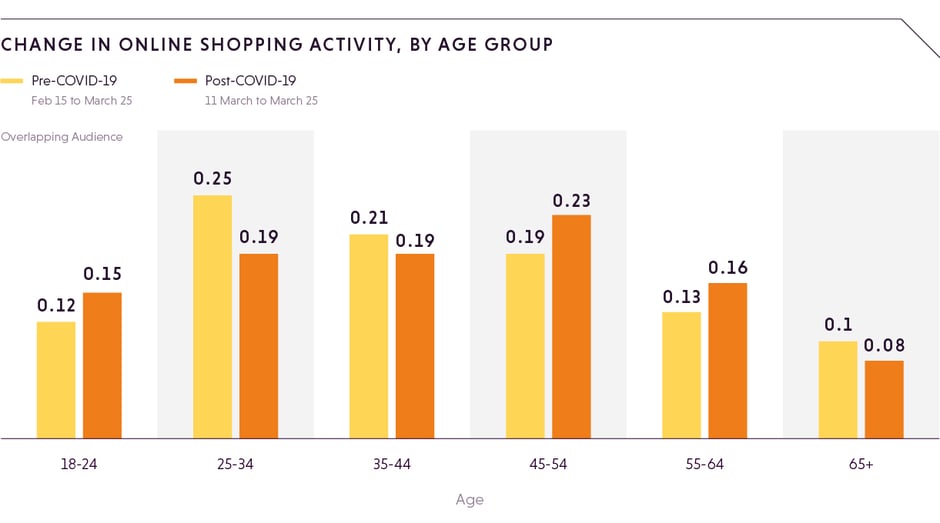 If you want insights like these delivered straight to your inbox, subscribe to our insights mailing list.